IIoT Microcontrollers
IIoT Edge Computing
Machine to Machine Solutions
IIoT Gateway Systems
Industrial IoT Development Kits
The term IIoT (Industrial Internet of Things) is often encountered in the manufacturing industry, referring to the industrial subset of the IoT (Internet of Things). EMAC Inc. provides embedded single board computers, embedded system on modules, development carrier boards, and embedded programming expertise to develop custom and semi-custom Machine to Machine (M2M), Industrial IoT, and Industry 4.0 solutions. While Industry 4.0 describes the trend towards automation and data exchange in manufacturing technologies and processes which include cyber-physical systems (CPS), the internet of things (IoT), industrial internet of things (IIOT), cloud computing. IIoT segment builds the sensor nodes and edge computing platforms that will construct the Industry 4.0 platforms. Our next generation embedded digital Industrial products are used by companies to add the features and functionality customers are demanding. Talk to one of our representatives to learn how you can create a semi-custom or fully custom solution to add PTP Real Time Ethernet, Wi-Fi, Zigbee, Bluetooth, serial communciation or other communications to remotely access to your next product.  We have the experience and expertise to simplify your choices and get your product to market. 
Want to learn more about IIoT or Embedded M2M? 
Read EMAC's IIoT and Embedded M2M page
Need help in making a selection?

For an EMAC authored article on selecting an SBC click here.

For an Presentation of the SoM approach, benefits & features click here.

EMAC single board controller interfaceing guidelines.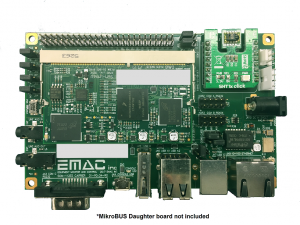 Additional Options
---
---
Receive consultation or product quotes from our sales staff, today.
Request a quote