iPac-9302
---
Cirrus Logic EP9302 ARM9 200 Mhz Processor with 100 Mhz System Bus

1 RS232 Serial Port with handshake

1 RS232/422/485 configurable Serial Port
16 MB of External Flash
EMAC has created the iPac-9302, an inexpensive, feature packed embedded Single Board Computer (SBC) based on the Cirrus EP9302 processor. This ARM9 based board has features, similar to our other Microcontrollers, A/D, PWM, Digital I/O, Serial, USB, and Ethernet. The iPac-9302 is a web enabled microcontroller device offering the ability to run an embedded server to display it's current monitored or logged data. This web connection can be via standard wired 802.3u 10/100 BaseT Fast Ethernet or 802.11 wireless wifi networking with the proper linux modules and adapters. This Microcontroller has all connectors brought out as headers on a board that is same footprint of a standard PC/104 module at 3.77" x 3.54". While slightly larger than our SoM Microcontroller offerings, this Industrial Strength SBC is perfectly suited for just about any Embedded Data Acquisition and Control application. This iPAC-9302 has a Minimum Order Quantity (MOQ - 25 pieces)
Features
---
Cirrus Logic EP9302 ARM9 200 Mhz Processor with 100 Mhz System Bus
MaverickCrunch Hardware Floating Point Math Engine
1 RS232 Serial Port with handshake
1 RS232/422/485 configurable Serial Port
1 10/100 Base-T Ethernet port
2 USB 2.0 Host Ports (Full Speed)
5 channels of 12 bit A/D (Ground to 3.3 V input)
Battery Backed Real Time clock/calendar

48 Digital I/O lines on two 50 pin I/O rack compatible headers designated as follows:

16 Processor 3.3V I/O lines configurable as Inputs or Outputs

16 PLD 3.3V input lines (5V tolerant)

8 PLD 3.3V output lines (25 ma. drive)

8 PLD High Drive Open Collector output lines (500 ma. sink)

9 Synchronous Serial I/O lines (SPI/AC97/I2S)

3 PWM I/O lines (2 in PLD)

Reset Button and Status LED
16 MB of External Flash
16 MB of External SDRAM
256K Bytes of EEPROM

MMC/SDHC hot-swap socket

Watchdog Timer

+5 Volt only input supply voltage
PC/104 Dimensions of 3.77" x 3.54"
Overview
---
EMAC has created the iPac-9302, an inexpensive, feature packed embedded Single Board Computer (SBC) based on the Cirrus EP9302 processor. This ARM9 based board has features, similar to our other Microcontrollers, A/D, PWM, Digital I/O, Serial, USB, and Ethernet. The iPac-9302 is a web enabled microcontroller device offering the ability to run an embedded server to display it's current monitored or logged data. This web connection can be via standard wired 802.3u 10/100 BaseT Fast Ethernet or 802.11 wireless wifi networking with the proper linux modules and adapters. This Microcontroller has all connectors brought out as headers on a board that is same footprint of a standard PC/104 module at 3.77" x 3.54". While slightly larger than our SoM Microcontroller offerings, this Industrial Strength SBC is perfectly suited for just about any Embedded Data Acquisition and Control application.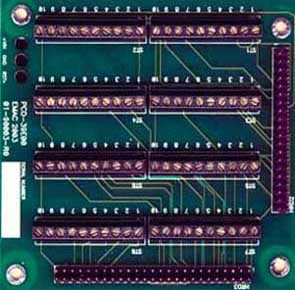 Also available is an optional Screw Terminal board(PCD-39E00-000) for the iPac (shown to the right) that is stackable, providing numerous I/O points with screw termination, in a very small package. Two Screw Terminal boards are required to accommodate all of the iPac I/O.
The resident flash on the iPac can be programmed via it's serial bootloader firmware over the RS232 com port or via it's JTAG port. Software can be written with Microsoft's .NET Micro Framework, Windows CE 6.0 or Linux (Open Embedded).
On the Linux side EMAC provides a Free Eclipse IDE that is pre-integrated to provide everything the user needs for developing iPac 9302 applications. All the compiling, converting debugging, and downloading inherent to iPac 9302 development can be done from one easy to use high level interface. The distribution provides an SDK for the EMAC iPac 9302 which contains source examples for the Ethernet, USB, Digital I/O ports, A/D, PWM, SPI, SD/MMC.
The EMAC Eclipse IDE is a powerful, yet flexible Integrated Development Environment for the iPac 9302 and even features SVN version control support. For more information of EMAC's Eclipse based Development Environment click here.
The iPac 9302 can use most of the EMAC's standard Linux Modules including the Modbus module. For a listing of these module see our Embedded Linux Operating Systems Page.
Just Write It and Run It!
Specifications
---
Processor
CPU

Cirrus Logic EP9302 ARM9

Clock Speed

200 MHz
Memory
RAM

16 MB

Primary Flash

16 MB external

Memory Misc.
Primary IO
GPIO

16x prog. 3.3V I/O lines, 16x PLD 3.3V in, 8x PLD 3.3V out, 8x PLD HDOC out

SDIO

9x Synchronous Serial

Ethernet

10/100 BaseT Ethernet

USB

2x USB 2.0

Serial Ports

1x RS232, 1x RS-232/422/485

Primary I/O Misc.

Reset Button and Status LED

MMC/SDHC hot-swap socket

MaverickCrunch Hardware Floating Point Math Engine
Secondary IO
Timers/ Counters/ PWM

3x multi-purpose
Analog
A/D Channels

5 Chan. 12 bit

D/A Channels

none
Misc
Operating Systems

EMAC OE Linux
Mechanical and Environmental
---
Dimensions
Size

3.8" ×3.5" (96mm × 88mm)
Power Requirements
Voltage

5 V

Typical Current

450 mA
Environmental
Low Operating Temperature
0 C (32 F)
High Operating Temperature
70 C (158 F)
Upper Operating Humidity

90%
Pricing
---
OEM / Quantity Pricing Available on Request - Less Services
(Single Unit Pricing. Includes: Integration, Setup,Testing, & Enhanced Support)
| Product # | Description | Price |
| --- | --- | --- |
| i302-01-01013 | IPAC 9302 IPAC 9302 W/ 16MB FLASH & RAM | Call |
| i302-01-02013 | IPAC 9302 IPAC 9302 W/ 32MB FLASH & RAM | Call |
| i302-01-03013 | IPAC 9302 IPAC 9302 W/ 64MB FLASH & RAM | $225.00 |
Peripheral Options
---
Product #
Description
Price

Power Supplies
PER-PWR-00032
5V @ 2.5A PS (110V @ 60 Hz US)
$20.00
PER-PWR-00033
5V @ 3.2A PS (100-220V @ 47-63 Hz Intl.)
$28.00
Terminal Boards
PCD-39E00-000
Screw Terminal Board Kit containing 40 pin and 50 pin connection cables ***See Product GPIO***
$50.00
Cables & Adapters
CAB-35-003-1
6" DB9 TO DB9 NULL MODEM EXTENSION CABLE
$10.00
CAB-35-004-1
6" 10 PIN HEADER TO DB9 SERIAL ADAPTER CABLE
$5.00
PER-ADP-00020
JTAG ADAPTER BOARD
$10.00
Operating Systems
SL013-AON-X0050
Embedded Linux Standard ARM Build
Free
SC600-000-0010D
Windows CE 6.0 Pro License (Basic configured installation included with License, Flash and SBC purchase; SOLD ONLY WITH HARD DRIVE OR FLASH DRIVE MEDIA)
$25.00
Additional Options
---